Integration of technologies and anthropology presented in London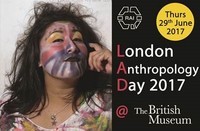 On 29 June 2017, Dr Dan Podjed, DriveGreen's Principal Investigator, carried out a workshop 'Technology and Anthropology: Why People Matter', organised at London Anthropology Day. In addition, he presented a 'Why the World Needs Anthropologists' stall in cooperation with Dr Siew-Peng Lee from Brunel University, and joined a panel discussion at the event.
The London Anthropology Day is annually held at the British Museum. On the day, participants get to learn what anthropology is about, the types of careers anthropologists do, and gain hands-on experience of what it is like to study the subject at university.
The workshop, prepared by Dr Podjed, first showed successful examples from the present and the past of anthropologists involved in development of new IT solutions, including cases from Xerox, Boeing, Microsoft, Intel, and Nissan. Afterwards, the participants of the workshop found out how anthropological skills and knowledge were used in practice for the development of new technologies in the DriveGreen project and in other anthropology-based development and education projects, for example PEOPLE and MOBISTYLE. (Photos: Dan Podjed and Siew-Peng Lee)
---
News archive